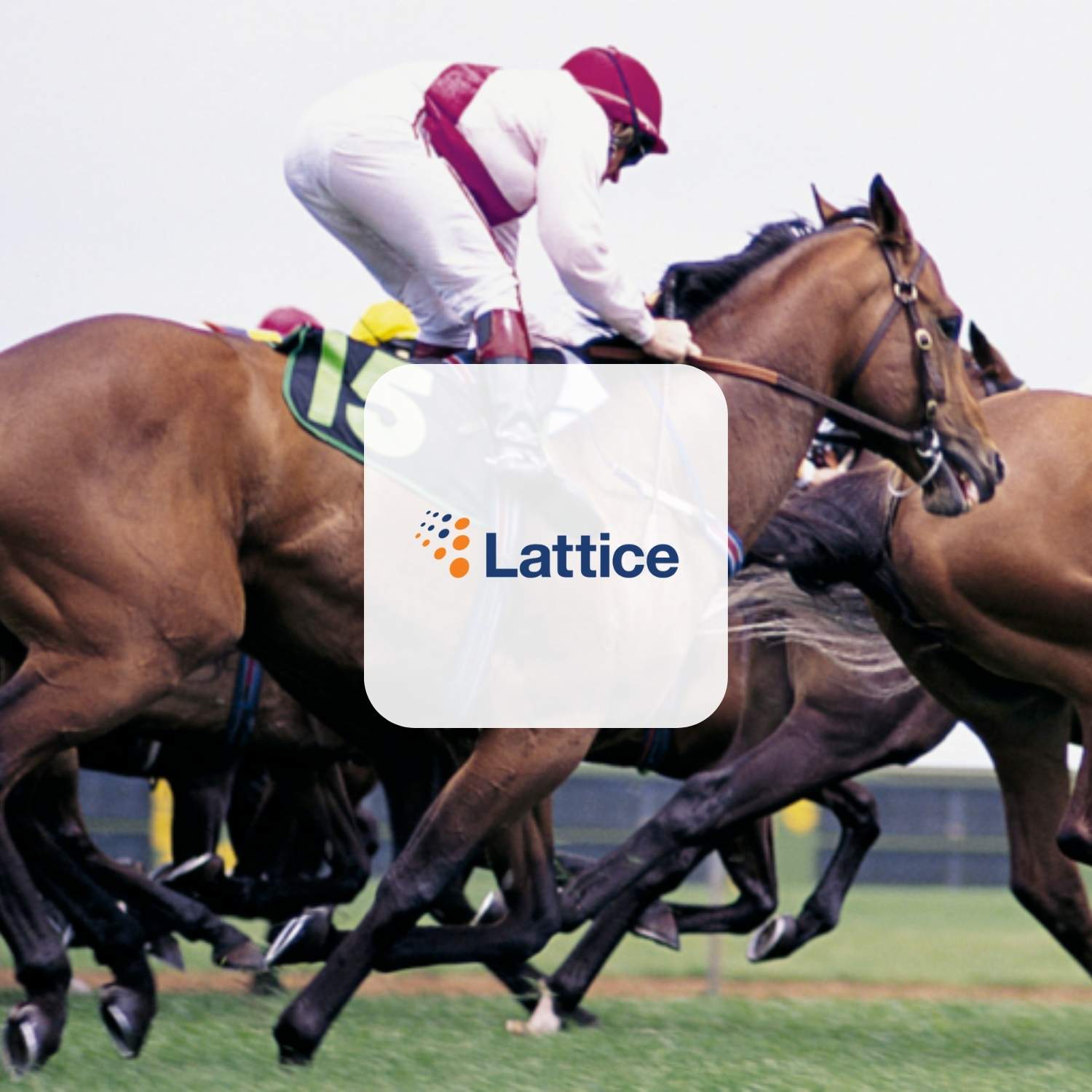 2x the pipeline at racehorse speed
How integrating Lattice Engines' super-powered predictive analytics software onto the Salesforce platform creates more pipeline with greater velocity for customers.
Key Results
Within the first 6 months, the app is used by 10,000 sales reps.
Customers see a 2x increase in qualified pipeline in less than 6 months.
Product releases increased by 4x (from 2 per year to 8).
The CodeScience team gave us the support we needed to make sure our product made a splash with key customers and key prospects. We were impressed with their incredible commitment, their patience, and their flexibility."

Chitrang Shah, VP of Products, Lattice Engines
The Background: About Lattice Engines
Picture yourself in the middle of Times Square during the Macy's Thanksgiving Day Parade. Wall-to-wall people. Blaring noise. In that kind of crowd, it's hard to see the forest for the trees. That's the information landscape today. And with the ever-increasing amount of data, it's become laborious for people — especially salespeople and marketers — to process it, meaning untimely insights and a lack of context or applicability. (And a whole lot of money lost.)
Fortunately, some companies thrive on big data. Lattice Engines is one of them. Lattice's software generates predictive analytics and recommendations — tailored insights like dynamic talking points and buying signals — from mounds of data to enhance users' leads for new business and identify opportunities within existing customers.
Using Lattice's software, sales teams and marketers gain a more focused investment in lead generation and nurturing — focus that results in a 37% increase in win rates, 40% increase in MQL production, and a 30% increase in customer revenue.
A business owner's dream, right? But a tool is only as good as its user — and it most certainly doesn't work if the user doesn't log into it.
The Test
Lattice's customers liked the idea of the software, but some were less than enthusiastic about the interface. The issue? The interface was outdated, wasn't mobile, and lacked a native integration with the primary tool they have familiarity with and loyalty to — Salesforce.
Prior to the new app, sales and marketing professionals using Lattice's software had to log into an external platform to access their Lattice-produced predictive analytics, then export CSV lists and transfer the information into the profiles already created in Salesforce. This disconnect produced friction that kept customers from fully adopting the product and making the most of Lattice's software. "Anytime something has a little friction, like our previous setup did, we see mixed success on customer adoption, " said Chitrang Shah, VP of Products at Lattice Engines.
The test quickly developed: How could we bring the software to end users in what they're already using — and not only make it seamless, but make it a better and more efficient experience than the separate entities alone
The Science
The project began with a singular focus in mind: usability. To Lattice, usability meant the ability for its users to access analytics in a clean and timely fashion with an experience barely different from logging into Salesforce alone. Lattice's customers had to be excited about using this app, but at the same time, hardly notice a difference.
CodeScience started by taking a deep dive into discovery with the Lattice team. Together, we produced high-level epics and stories, where potential sequences and features were plotted out to figure out what might work, and what just plain wouldn't.
A big part of the project was giving Lattice insight into how they could take advantage of what's already built behind Salesforce in order to simplify their investment and build a truly beautiful app"

CodeScientist Kevin Houk
A few simulations and use cases later, CodeScience was ready to begin building — and that's where the fun really begins. After all, an app this robust challenges even the best of engineers. Here are just a few places where CodeScience had to work its magic:
Conquering mountains of data. Just the volume of aggregated information alone could scare away a developer in a blink. Processing millions of records usually involves a piece of hardware, housed within a data center. CodeScience essentially needed to build a data center that could function via the app.
CodeScience had to create a way of pulling information out of Lattice servers that doesn't take forever, won't break, is resilient if the internet goes down, and processes all of the info at a speed that won't have someone waiting hours for it to happen"

CodeScientist Sebastian Kessel
Customizing with our eyes closed. With each customer working with a different instance of Salesforce customized to their preferences, Lattice's app had to be able to be installed on top of each and achieve perfect sync. This challenge created the need for an incredibly flexible UX that could map to two different users' Salesforce profiles without blinking.
Raising the roof. Salesforce naturally comes with its own set of limitations, which it puts in place to keep the experience desirable for all of its customers. Ceilings on the number of fields and records processed had to be overcome in order to integrate the information Lattice aggregates with what users already keep in Salesforce.
Working with a long list of must-haves and an incredible amount of unknowns meant the CodeScience and Lattice teams had to work together to strike a balance between relevant information and disruptive noise. While this might puzzle some, the CodeScience team loves a good challenge. And if you ask C|S engineers today, they'll smile and tell you all it took was this "simple" formula: jQuery + Bootstrap + magic. Yup, magic.
Now, for the wins.
We are extremely proud to announce that our app is being used by 10,000 sales reps within the first 6 months of our launch, creating more pipeline for customers at a rate of 2x."

Shashi Upadhyay, Ph.D, CEO, Lattice Engines
The Results
Within just three months, one of the most complex apps that exists on the AppExchange was born. Not only was its speed to market noteworthy, but the depth and quality of the app was beyond what either team could've imagined. The proof is in the pudding: within just six months, the app now has 10,000+ happy salespeople using it!
What developed was a process of running batches of thousands of records in parallel, and doing it three times as fast as what Lattice customers were used to — a speed and depth which will continue improving as past data builds — and a speed which Lattice customers are very excited about, according to Chitrang Shah, Lattice's VP of Products.
The positive feedback doesn't end there, though. Take it from Chitrang: "The previous user interface required push to get sales reps to use it; the new interface has pull. Reps see it as a tool that they can embed into their workflow. They don't see it as the Lattice user interface; they see it as their Salesforce use getting a whole lot better. That's a real compliment for us."
Now comes the real test of success: Did we succeed in making it not only seamless so that usage increased, but also make it a better and more efficient experience?
From Chitrang: "The new app is a more elegant display of information across both desktop and mobile. Not only does it just look nicer, it naturally supports what a salesperson does in their day: pursuing accounts and campaigns, call preparation, logging calls, creating opportunities. All made possible with simple buttons."
Enhanced recommendations help their growing levels of satisfaction, too. "They don't just get recommendations put in as leads, they get data about why that lead was put in at a certain level. They have the ability to research their accounts and the recommendations."
Another pure enhancement was reporting. "Managers are now actually much more likely to look at campaign performances — and there's a lot of pull for it. Sales managers typically got reporting off of opportunities and closed business but they didn't get much visibility into activity like they do now."
"I'm very excited and we know it's something Salesforce is also excited about. It makes me much more confident in selling our product." – Chitrang Shah, VP of Products, Lattice Engines.
The Party is Hardly Over
CodeScience is working directly with the sales and customer service teams at Lattice to build expertise internally — enabling them to both sell the app and better support their users.
But not only is work being done to educate Lattice on what's already been built; the app is still expanding. With previously unavailable customer insights now within reach and existing insights amplified in a timely, secure, and intuitive fashion, the possibilities are endless.
Fortunately, the app was designed and developed with fluidity, meant to be built upon and ever-improved. The first iteration came just three months after its release, with added features to enhance simulations and add filtering and reporting for teams that want to run multiple scenarios for comparison. So when you want to know who's a better target — is it the companies within Cali with 200-400 employees and revenues between $1 and $3 million, or is it companies within New York with those same specs? — you can get that answer, fast.
The breadcrumbs have been dropped. The app was built for it. Bring it on.
Whether you're a long time partner or just now evaluating the Salesforce ecosystem, we would love the opportunity to help you build for success.